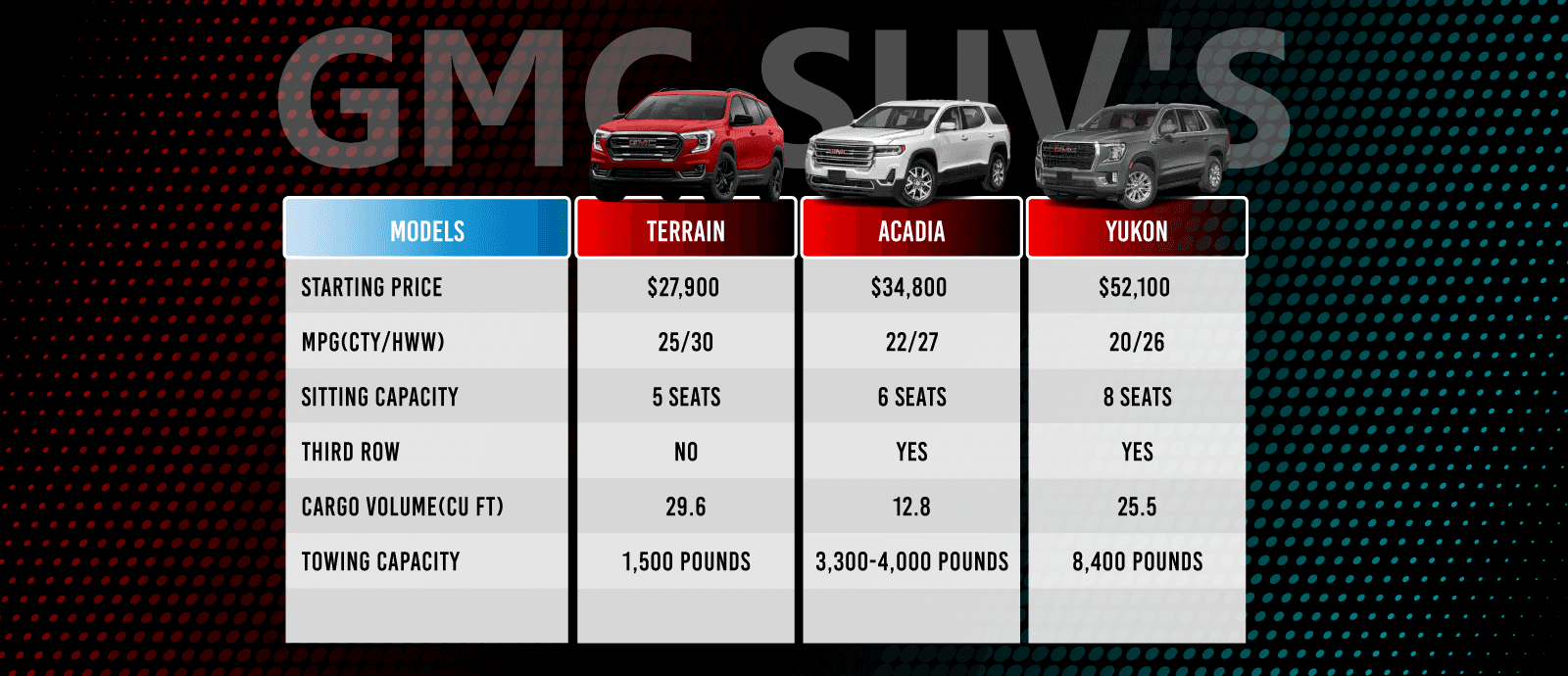 GMC SUVs
---
GMC has an outstanding suite of SUVs and crossovers to satisfy the demands of the modern American.
For GMC energy, versatility, and ease, there's the solid Acadia mid-size SUV. For better efficiency without giving up power, choose the smaller, compact Terrain SUV. If you have a larger family or need more power, you can select between the full-size Yukon and Yukon XL SUVs, both of which offer plenty of seats as well as fantastic trailering capacities.
2022 GMC Acadia
The GMC Acadia has rugged looks, yet it's a family-friendly alternative to a minivan that provides a lot a lot more. The area inside is wonderful, particularly in the first two rows of seats, and an entire host of infotainment and driver-assist modern technology is included as standard on all versions.
This year, the base trim is the SLE, which was formerly the second-level trim. There are two engine choices-- a 2.0-liter turbocharged four-cylinder that outputs 228 horsepower and a 3.6-liter V6. These are combined with a nine-speed automatic transmission, and you have the option of four-wheel drive.
For the best trip, take into consideration the flexible suspension that's optional on the SLT trim as well as standard on the Denali.
The compact size of the Acadia helps it fit into parking spaces and garages, yet the interior offers lots of room over its three rows. Overall, the Acadia is a functional, family-friendly SUV.
2022 GMC Yukon
If you need even more space, the GMC Yukon has you covered. It's the largest SUV in the GMC lineup and is available in standard as well as long-wheelbase (Yukon XL) versions. Three engines offer to power the Yukon-- 2 gasoline-powered V8s (as much as a 6.2-liter) and an outstanding 3.0-liter inline-six turbo-diesel.
You do not have to choose the turbo-diesel to obtain excellent towing and handling prowess from the Yukon. It's especially refined when traveling, and it has four trims that increase in power as well as luxury. The SLT is the sweet spot for services most customers look for such as heated seats, natural leather furniture, and a power back liftgate. The AT4 has added off-road equipment, and the Denali has glamorous hand-stitched leather inside.
The Yukon is a superb option if you're looking for an excellent amount of room to extend over all three rows, while still carrying a large quantity of cargo.
2022 GMC Terrain
In a world of small crossovers, the GMC Terrain stands apart. Its truck-like design is partially due to the redesign for 2022, as it now has an updated front bumper and grille, new LED lights, upgraded wheel designs, and also a new, rugged AT4 model.
All Terrains are furnished with a 1.5-liter turbocharged four-cylinder engine and also a nine-speed automatic. You can go with four-wheel drive, and the soft suspension makes the Terrain very comfortable when on the road for travelers.
The Terrain is great for lugging big loads of different sizes and shapes, aided by a split-folding rear seat as well as a front seat that can be folded up flat. With wireless Android Auto and Apple CarPlay support from the in-car entertainment system, the Terrain is appropriately connected.